Hey there! Today I am back with another fun blog hop hosted by Team Creative Crafts and featuring so many awesome bloggers. The theme this month is pumpkins. Everyone did such an amazing job at making fun crafts with this month theme. All the other posts will be linked at the bottom of this post. For my project I made a cool Halloween pumpkin bookmark.
Disclosure: Post contains affiliate links, read my full disclosure HERE.
My youngest son enjoys reading so I love making him different types of bookmarks. My Cricut Joy is a great helper for these bookmark projects. A little while ago I used my Cricut Joy to create this reading pointer which can also be used as a bookmark.
Halloween pumpkin bookmark supplies:
The first thing I did was cut out my pumpkins from the Easy Cut Adhesive using my Cricut Joy. I used the glitter paper setting to make sure it cut all the way through.
Here is the material I used, you can faintly see the pumpkin cut outs. But it's there.
They cut out pretty well with the glitter paper setting. This Easy Cut Adhesive is pretty much double sided tape in between two pieces of paper. When putting the pumpkin cut out down on the laminate sheet start by removing the back paper first. You need to be careful with this step because the front paper will sometimes want to come off first. 
When you remove the back paper, place the pumpkin down onto the laminate sheet. Once you place down all the pumpkins remove the top piece of paper. You will now be able to add the foil to them. Make sure to rub the foil on really good to make sure it is on there well. Next remove the foil sheet.
I decided to add some black glitter to the empty spaces. I used a clean paint brush to remove any glitter that got on the pumpkin.
Next, I closed my laminate sheet and ran it through my laminating machine.
Once it finished laminating I used my paper cutter to cut it down to the bookmark size I wanted.
I used a hole punch to make a hole at the top and ran some ribbon through.
Thats all there is to it. Its pretty easy to make this Halloween pumpkin bookmark you just need to be take your time when working with the Easy Cut Adhesive. I hope this inspires you to create one yourself. And, don't forget to check out the other crafts projects from the blog hop. Happy crafting!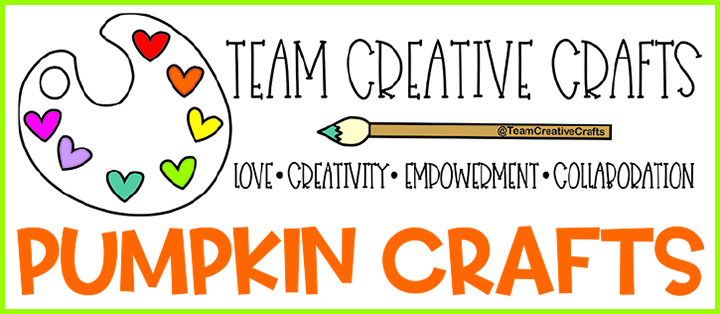 Create the most adorable DIY Fall Wreath with Pom Pom Pumpkins by following the tutorial on Laura's blog Me and My INKlings.
Learn How to Draw a Pumpkin with step-by-step instructions from the talented Smitha of Smiling Colors.Download her free printable guide.
Laura with Laura's Crafty Life has created a Mini Pumpkin Wreath with easy to find supplies from Dollar Tree. Just gorgeous!
Create Pumpkin Contact Paper Suncatchers with a quick tutorial from Shani at Sunshine and Munchkins. A fun and easy fall craft for even the littlest crafters.
So creative and unique, learn how to Make an Easy Mod Podge Map Pumpkin for travel enthusiasts. Justine from Little Dove Blog shows you all the steps.
Erica from 5 Little Monsters is sharing her Alpine Stitch Crocheted Pumpkin, complete with a full set of patterned instructions, so you can create your own!
Learn how to make DIY Wooden Pumpkin Blocks with a step-by-step tutorial from Kelsey at Poofy Cheeks and learn what she used to stencil these beauties.
Katie, the Crafty Blog Stalker is sharing a gorgeous Hand Painted Pumpkin, and we love her color palette of white and gold.
Simple strips of colored paper have never looked so good then when Chelly from We Can Make That shows us How to Make Paper Pumpkins.
Jewels and buttons transform into the most elegant Bejeweled Pumpkin Art created by the talented Jane of DIY by Jane. Simply stunning!
Beth with Creatively Beth can transform any found object into a pumpkin with some paint. We think that her Recycled Mini Bundt Pan Pumpkins are adorable.
Inspired by her favorite characters, Lindsay of Artsy Fartsy Mama has created No-Sew Fabric Pumpkins. Click through for the full tutorial.
Take adorable to the next level with Upcycled Crochet Thread Ball Pumpkins created by Beth of Creatively Beth.
We are always in for the glam creations that Lindsay of Artsy Fartsy Mama makes with resin. Her Pastel Pumpkin Charms do not disappoint!
Liz with Liz on Call loves sharing her free printables with the world and we are all in for her modern patternedPumpkin Coloring Sheet.
Take your water coloring skills to the next level with a fun and funky Free Pumpkin Template and Tutorial fromHeather at Homemade Heather.
We love a good project that fools our eye and this Cement Look Pumpkin Cup from Candice of She's Crafty has us all doing a double take.
Transform your mantel with simple supplies from the Dollar Tree with Michelle of Michelle's Party Plan-It. Her Pumpkin Mantel Décor is elegant enough to leave up all season long.
Beth with the Ruffled Daisy shows us how to create an Aged Metal Pumpkin with simple supplies and a full tutorial.
Styrofoam balls and yarn go along way with these simple DIY Yarn Pumpkins for your mantel or tablescape. Diana from the Girl Creative is sharing her instructions.
Marissa from Rae Gun Ramblings has created a complete tutorial covering all of her Painted Pumpkin Tips and Tricks, so check them out today.
Learn how to Create a Pumpkin Landscape by Color Matching Paint and Markers with a full tutorial from Jenny of Jenny's Crayon Collection.
Take a simple plaque to the next level with a colorful DIY Stained Wood Pumpkin created by Laura of Me and INKlings. Click through to see how she made it!